RUBBER SOLD BY THE SHEET, ROLL OR STRIPPING
MATERIAL IN STOCK AND READY TO SHIP!
| | |
| --- | --- |
| | SBR is a copolymer of styrene and butadiene and has properties similar to Natural Rubber. It has good abrasion resistance, excellent impact strength, very good resilience and a high tensile strength. The temperature range of SBR is -40˚F to 180˚F. SBR can be compounded for use as lining rubber, conveyor belt covers and other extremely demanding applications. |
| | NBR-Nitrile (Buna-N) is the polymer of choice for applications requiring oil and solvent resistance. Nitrile has very good oil and gasoline resistance, superior resistance to petroleum-based hydraulic fluids, a wide range of service temperatures, good resistance to hydrocarbon solvents, and very good resistance to alkalis and acids |
| | Neoprene is noted for a unique combination of properties, which has led to its use in thousands of applications in diverse environments. Neoprene is a polymer that provides moderate oil and gasoline resistance, very good resistance to ozone and sunlight, excellent adhesion to fabric and metals, good resistance to abrasion and flex cracking and very good resistance to alkalis and acids. |
| | Cloth reinforcement enhances dimensional stability in flanged gasket applications with high compression loads. Suitable for use in air, hot water, low pressure steam and hydraulic services. Available in a variety of Elastomers: SBR, Neoprene and Nitrile. Good resistance to alkalis and acids. |
| | Silicone rubber can withstand a wider range of temperature extremes than nearly all other Elastomers, remaining viable from -75°F to +500°F. Silicone has excellent tensile strength, elongation, tear strength, compression set and high temperature properties. Silicone can withstand many extreme environments and is inherently a fungus resistant material. It can resist water and many chemicals, including some acids, oxidizing chemicals and ammonia. |
| | VITON® RUBBER is one of the newest and most promising members of the elastomer family. FLUOROELASTOMERS resist a wide variety of corrosive fluids at elevated temperatures while retaining their mechanical properties. Other important features of VITON include resistance to weathering, ozone, oxygen and flame… good tensile strength, resilience, low compression set. Unlike many of their counterparts, VITON FLUOROELASTOMERS retain their basic properties at extremely high temperatures. |
Rubber Matting Products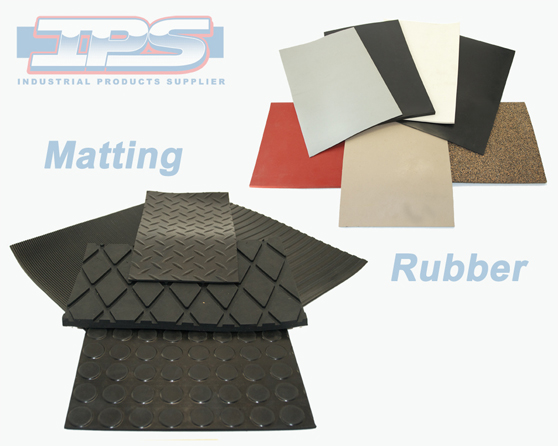 Anti Fatigue matts, Kitchen Safety Mats, Heavy duty corrugated Wide Rig Matting, Corrugated matting, Diamond-Plate Runner Radial Runner.
Contact us for more information